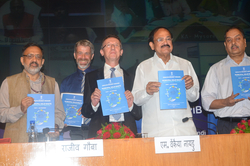 The Hon'ble Minister for Urban Development, Shri M Venkaiah Naidu launched the Municipal Solid Waste Management Manual during a nation-wide launch event of Swachh Survekshan, 2017
Date : August 6, 2016
Place : New Delhi
On the occasion of the nation-wide launch event of #SwachhSurvekshan 2017, the Hon'ble Minister for Urban Development, Shri Venkaiah Naidu launched the Municipal Solid Waste Management Manual on 6th August 2016 at the National Media Centre in Delhi. To accomplish the vision of Swachh Bharat Urban expeditiously, particularly on solid waste management, MoUD, through the Municipal Solid Waste Management Manual aims at guiding all stakeholders particularly Urban Local Bodies (ULBs) to adopt suitable measures for waste minimisation at source, better systems for segregation, collection, transportation, processing, treatment and disposal in complete harmony with the environment and in line with prevalent MSW regulations prepared. The revised MSW Manual 2016 has been developed by MoUD in collaboration with GIZ.
To address the challenges of municipal solid waste management and to support the States and ULBs in developing modern and appropriate systems in line with the Swachh Bharat Mission under MoUD, the Ministry of Environment Forest and Climate Change (MoEFCC) has revised the Municipal Solid Waste Management Rules 2000 and has come out with the Solid Waste Management Rules 2016.
Structure of the Revised Manual


The Manual has the following structure and addresses different target groups in its different sections
Welcome to the German Pavilion at IFAT India 2016!
India's Leading Trade Fair for Water, Sewage, Refuse, Recycling and Energy Conservation
IFAT India 2016
28 – 30 September 2016
Bombay Exhibition Center
Mumbai, India
IFAT India gives the environmental industry the most comprehensive range of products and services in the region, the latest state-of-the-art technology and a wide range of superior quality services for all sectors of the environmental industry. It covers the sectors for water, sewage, refuse, recycling and energy conservation.
India is one of the most populated countries in the world. As one of the rapidly developing countries it is also the source of a humongous amount of waste per annum, be it the municipal solid waste, hazardous waste, bio-medical waste or e-waste. Segregation at source, collection, transportation, treatment and scientific disposal of waste is largely insufficient leading to degradation of environment and poor quality of life.
Indus media together with partners has organised the second Business Delegation to IFAT India with the aims at providing international companies with a substantial overview of the Indian solid waste management market, business opportunities and new incentive programs such as Swachh Bharat Mission.
We invite international companies to join our second business delegation to
Understand the Indian Solid Waste Management sector, meet the stakeholders that matter for your business
Promote industry cooperation, experience sharing, business partnerships
Share knowledge, technology transfer in recycling and environment efficiency
Benefits
Detailed information of the target market and access to expert knowledge and valuable market information
SWM conference during IFAT India, with local experts, referents, and multiplicators
Visits to Solid Waste Management sites in Mumbai
Networking events for business contacts and with Government agencies
Tuesday, 27. September 2016 (Mumbai)
> Arrival in Mumbai


Wednesday, 28. September 2016
> Tour of IFAT India,
> Personalised One2One meetings with Indian companies & other stakeholders


Thursday, 29. September 2016
> Conference organised together with ISWA, GIZ India and Messe München
> Interactive Technology Exchange session with Municipal Corporations & Industry partners
> Cocktail Networking Dinner hosted by Consul General of the Republic of Germany


Friday, 30. September 2016
> 13.00 - Site visit to Solid Waste Management Deponie and upcoming Waste2Energy plant in Mumbai.
Aim of the site visit is to understand
The present status of SWM in Mumbai
Upcoming plans of the Mumbai Municipal Corporation to built one of the world's biggest Waste2Energy plant
Clearing up of the existing Land fills in Mumbai
> Date & Timing : Friday, 30 September, 13.00 to 17.00
> Site Location: Mulund Deponi, Kanjurmarg or Deonar
> Participation fees: 10 Euro per person, Pick up nn front of IFAT India entrance
> Personalised One2One meetings with Municipal Corporation
Saturday, 1. October 2016
> Discover Mumbai - Fly back to Germany
Government Regulations and Initiatives -
Waste2Energy & Landfill mining & Reclamation (LFMR)
Clean India Mission
Partnership & cooperation models in MSWM sector, Investment & PPP models for foreign companies
Experiences, risks, challenges and growth opportunities in Indian solid waste management sector
Question & Answer Session - Networking
The aim of the conference workshop
Comprehensive detailed overview on the Solid waste Management Market in India
Appraise the international industry participants about Clean India Mission, Waste2Energy & Landfill mining and reclamation (LFMR)
Present partnership and investment opportunities in the India SWM sector
Participation fees
Besides the costs for flight, hotel accommodation, visa, catering and logistics in India, a participation fee of 500 Euro (plus taxes) per participant will be charged.